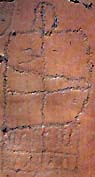 6th august rock
La Recherche, june 97
The head of the tribe's outstrechted arms seem to point out the north-south axis. The altar rock, the head of the tribe rock (the most important of the site) and the Rouelle rock are situated according to this north-south axis.The Head of the tribe thus would have permitted to aim at the sun on the summer solstice, the autumn equinox and on the exact day between these two dates.
The 6 th august rock shows a drawing that corresponds to the path of the sun above the equator during one year, between the solstice and the equinox. On the same rock, an other drawing depicts two sinusoidals conform to the twelve lunar cycles.
Lastly, concentric circles situated above the point corresponding to the summer solstice, might represent the capricorn constellation which reached culmination at that time at night during this period of the year.

To know more:
"Des gravures de la vallée des merveilles au ciel du Mont Bego",
defended thesis on 3/25/1997 by Chantale Jegues-Wolkiewiez
at the french UNSA Ethnology Laboratory.